From the year of 2006 to 2012, the apple production of China was increased by 2 million tons per year, which is half of the apple production of America. The cultivated land of apple trees and the apple production in China is 40% of the world's total amount.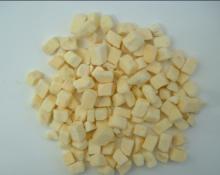 The fruit expert says the product remains less competitive on international market due to the shortage of specific apple with high acidity among china, but it doesn't influence the whole apple processing industry, high acidity apple are mainly used to produce apple juice, not dehydrated apple products like the dried apple dices with skin and dried apple slices.
Since China is the largest producer of apples in the world, the apple processing factories should be thankful to China due to the low price of apple, you would be able to find hundreds of different apple species in the China market.
After all those years of developing, the development of apple cultivate in China can be called blind developing, it would be better if there is an apple association formed to make the apple production in China more logical and more organized. But this doesn't change the fact that China can provide the best apple dices with skin and other apple products to most countries in the world.